アクセス
About the Kurosawa Joint Office
The Kurosawa Joint Office Group was founded in 1972.
It is a joint office of judicial scriveners, land and house investigators, surveyors, certified tax accountants, certified public accountants, administrative scriveners, and licensed social insurance consultants.
We offer one-stop service from surveying, to registration, to taxation business under the motto of "Accurate," "Speedy," and "With Care."
We have a great deal of experience from intricate individual cases to large-scale cases across the country like assignments of claims.
Additionally, through education of various fields and interning, we increase the skills of our employees while contributing to society through efforts like dispatching lecturers for university classes or corporate training.

Currently, Chinese native speakers are enrolled, so we respond to phone / mail in Chinese .
Chinese Phone Number 03-3388-2520
We also can respond to English e-mails. Certified public accountants and tax accountants will respond to consultations such as company establishment.

For consultation/inquiries, please use our contact page.
Office Hours
 Mon – Fri 9:00~18:00
   Sat  9:00~15:00
Address
〒164-0001
4-4-11 Nakano, Nakano-ku, Tokyo
〒221-0835
3rd Yasuda Bldg, 2-26-4 Tsuruyacho, Kanagawa-ku, Yokohama (Judicial Scrivener Corporation/Yokohama Office)
Representative
Koki Kurosawa
Employees
Approx. 80 (As of September 2nd, 2019)
*Staff members able to respond to Chinese (Mandarin,Cantonese) are currently employed.
E-mail
kurosawa@kurosawa.gr.jp
(Personal information sent from this address is handled appropriately and strictly in accordance with our office's personal information protection policies. Please use this address only if you are in agreement with our office's handling of personal information.)
About linking
For linking to this site, please contact us beforehand(To our representative e-mail address: kurosawa@kurosawa.gr.jp. Unauthorized reproduction of copyrighted materials on this site like articles, photos, pictures, etc. is prohibited.
Map
◎Tokyo 5 minute walk along Nakano Street from Nakano Station North Exit
(General Reception) 6th floor, 12th Minami Nihon Bldg. 4-4-11 Nakano, Nakano-ku, Tokyo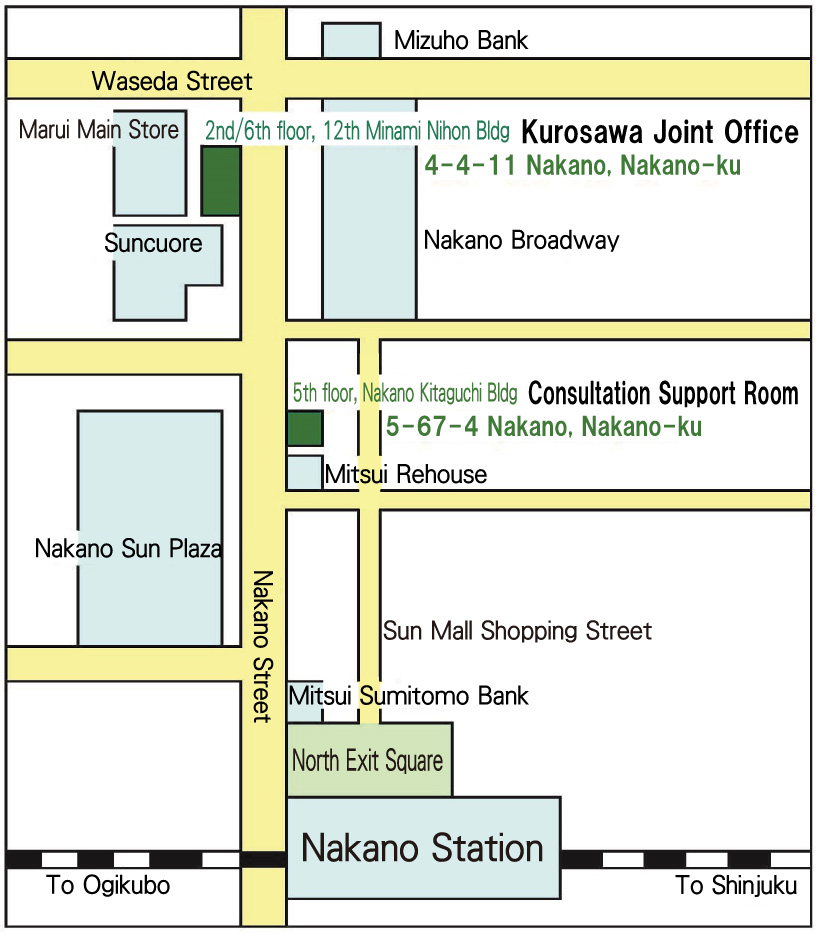 ◎Yokohama 5 minute walk from Yokohama Station West Exit
3rd Yasuda Bldg. 2-26-4 Tsuruyacho, Kanagawa-ku, Yokohama, Kanagawa Prefecture